HERE again STILL
HERE again STILL
HERE again STILL
Buell Theatre Lobby
Nov. 12, 2021 – March 27, 2022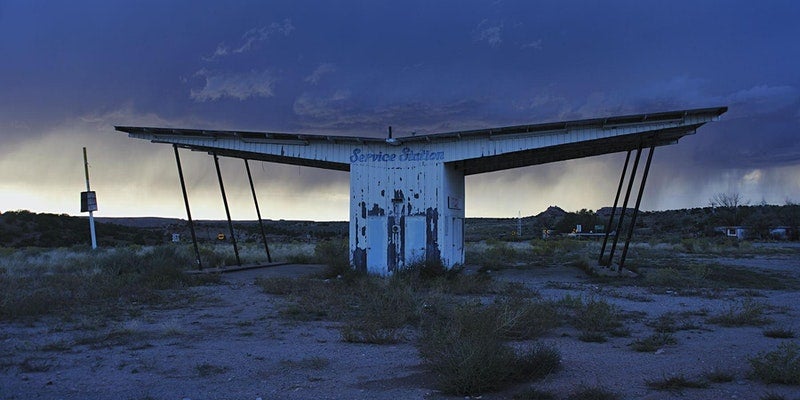 About HERE again STILL
As creative partners as well as life partners, Sharon Feder and Dallas Parkins have developed singular bodies of work. However, through their daily and planned travels, they have found that their works often reference the same subjects.
One of the most fascinating aspects of these combined solo exhibitions of large paintings and photographs is that "Still. Here." (an exhibit featuring many of the same artworks) was originally installed in February 2020, just three weeks before The Buell Theatre and all other Denver Performing Arts Complex venues were closed due to the COVID-19 pandemic. "Still. Here." also opened just four days before Parkins was diagnosed with a serious and life-limiting medical condition. Equally remark-worthy, the 24 works in the exhibit portray structures in very stilled environments, presciently reflecting the world where we all soon found ourselves – a world of shuttered venues, closed restaurants and vacant store-fronts.
The collective "we" have gone through the pandemic, wildly shifting gears and adapting to an ever-changing terrain, in this most global of all human experiences. Yet, we find ourselves "HERE again STILL" - essentially, the same people as we were in early 2020, but also quite changed because of the journey from then to now.
About Dallas Parkins
Dallas Parkins is represented by Michael Warren Contemporary gallery. His images have been selected for exhibitions including 2016 and 2019 Art of The State and 33rd Annual All Colorado shows, the four-person invitational, "Structured," at the Curtis Fine Arts Center, the 2014 "Icebreaker" national exhibition, Art Students League of Denver's "Modern Man and the Landscape" exhibit, and the 2015 "One By One" exhibition at the Colorado State Capitol.
About Sharon Feder
Sharon Feder began studying oil painting as a child with some of Colorado's well-known Modernists, and later at the University of Washington in Seattle. Her paintings have been enhanced and informed both by decades of technical experience as a set designer, muralist, and sign artist, as well as by a life richly lived as mother, mate and student of nature.
Feder is represented by Michael Warren Contemporary in Denver and George Billis Gallery, Los Angeles. She has shown extensively in the metropolitan Denver area including solo exhibitions at Boulder Museum of Contemporary Art - Andrew J. Macky Gallery, Denver Botanic Gardens, the Arvada Center for the Arts and Humanities, Denver International Airport, Goodwin Fine Art, Michele Mosko Fine Art and the Denver Theatre District, as well as being invited into curated exhibitions at the Arvada Center, Curtis Fine Art Center and Denver Botanic Gardens. Her work is included in many corporate and private collections.