"Danielle SeeWalker Solo Exhibition: You Can't Have Our Braids"
DANIELLE SEEWALKER SOLO EXHIBITION:
YOU CAN'T HAVE OUR BRAIDS
BUELL THEATRE LOBBY
OCT. 15, 2022 – JAN. 1, 2023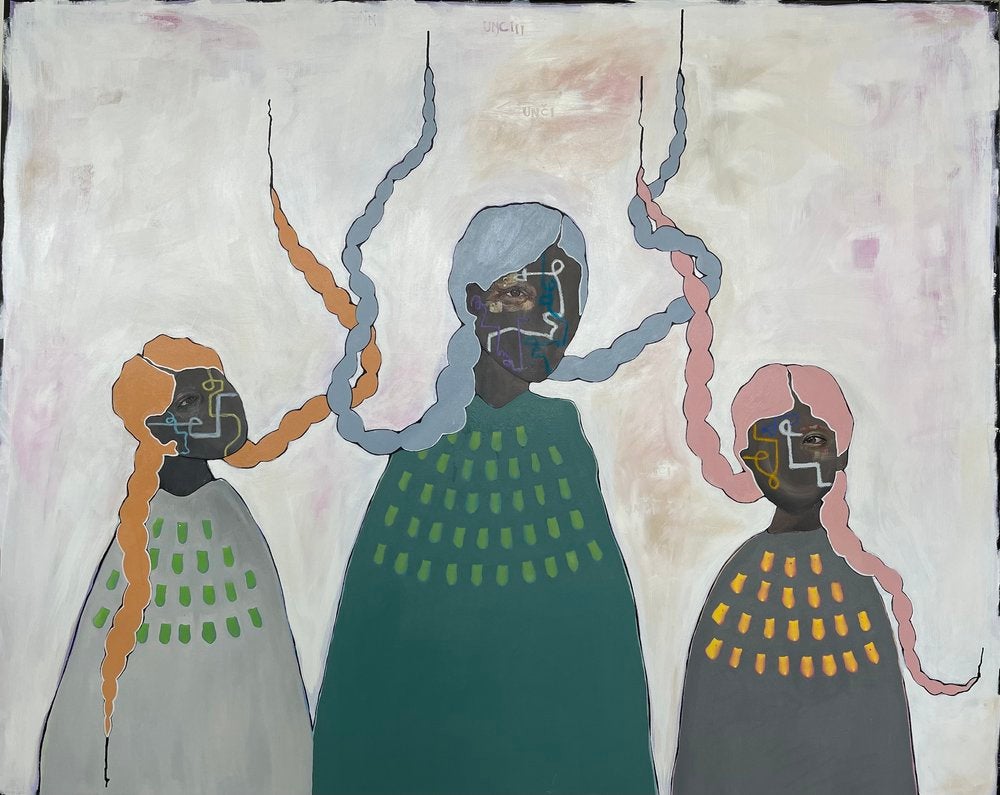 A companion exhibition to "The Red Road Project" on display at McNichols Civic Center Building through Dec. 18, Danielle SeeWalker's solo exhibition showcases her original paintings, with mixed media works that merge expressionistic portraiture with her Lakota traditions.
About Danielle SeeWalker
Danielle SeeWalker, a member of the Standing Rock Sioux Tribe in North Dakota, is a Hunkpapa & Oglala Lakota artist, writer, and mother based in Denver, Colorado. She serves as a Commissioner with the Denver American Indian Commission and holds a career with a Fortune 500 company. Because of the historical stigma often associated with being Native American (particularly in North Dakota), Danielle often felt shame and hopelessness as a young girl. That experience has only fueled her passion and dedication to this project with hopes to inspire Native American youth, peers and future generations. Today, through her artwork, writing and lectures, Danielle continues to redirect the narrative to an accurate and insightful representation of contemporary Native America.
---
EXPOSICIÓN INDIVIDUAL DE DANIELLE SEEWALKER:
NO PUEDES TENER NUESTRAS TRENZAS
VESTÍBULO DEL TEATRO BUELL
OCT. 15, 2022 – ENE. 1, 2023
Una exposición complementaria del "The Red Road Project" (El Proyecto Camino Rojo) en exhibición en el Edificio "McNichols" del Centro Cívico hasta el 18 de diciembre. La exposición individual de Danielle SeeWalker muestra sus pinturas originales, con obras de técnica mixta que fusionan retratos expresionistas con sus tradiciones Lakota.
Danielle SeeWalker, miembro de la tribu Sioux de Standing Rock en Dakota del Norte, es una artista, escritora y madre Hunkpapa & Oglala Lakota que vive en Denver, Colorado. Ella sirve como comisionada en la Comisión de Indígenas Americanos de Denver y ha hecho carrera en una compañía de Fortune 500. Debido al estigma histórico que a menudo se asocia con ser nativo americano (particularmente en Dakota del Norte), Danielle a menudo sentía vergüenza y desesperanza cuando era niña. Esa experiencia solo ha alimentado su pasión y dedicación a este proyecto con la esperanza de inspirar a los jóvenes nativos americanos, sus compañeros y las generaciones futuras. Hoy, a través de sus obras de arte, escritos y conferencias, Danielle continúa redirigiendo la narrativa hacia una representación precisa y perspicaz de los nativos americanos contemporáneos.