The Next Stage Gallery
The Next Stage Gallery is an interactive space presented by University of Colorado Denver and Denver Arts & Venues. Students from CU Denver's College of Architecture and Planning's design/build program re-imagined a vacant space in the Galleria to construct a flexible modern gallery. They focus on showing new technology in art and design, bringing new shows every few months.
Location: In the Galleria at the Denver Performing Arts Complex. Across from the Buell Theatre
Hours: Tuesdays - Fridays, 4:30 p.m. - 7:30 p.m. / Saturdays & Sundays, 12:30 p.m. - 7:30 p.m.
Find out more at nextstagecu.org.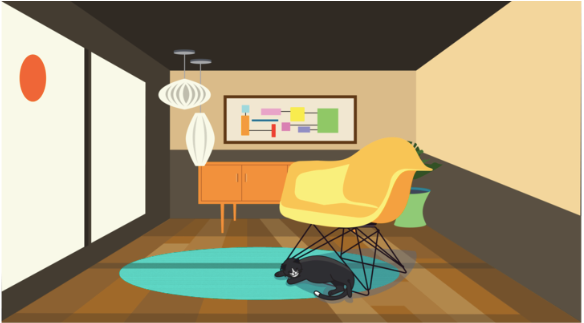 Current Show
Midcentury Musings: Design for a New Way of Living highlights how post-WWII designers were exploring and creating new ways of living. Inspired by the excitement of a booming economy, population, and scientific innovations, designers stretched the imagination of how we interact with and define our living spaces.
This exhibition is inspired by the Denver Art Museum's summer beacon exhibition, Serious Play: Design in Midcentury America, which explores how play was a catalyst for creativity and innovation in post-war design. In collaboration, CU Denver students and professors created educational interpretations on view here and at the Denver Art Museum.