The Next Stage Gallery
The Next Stage Gallery is an interactive space presented by University of Colorado Denver and Denver Arts & Venues. Students from CU Denver's College of Architecture and Planning's design/build program re-imagined a vacant space in the Galleria to construct a flexible modern gallery. They focus on showing new technology in art and design, bringing new shows every few months.
Location: In the Galleria at the Denver Performing Arts Complex. Across from the Buell Theatre
Hours: Tuesdays - Fridays, 4:30 p.m. - 7:30 p.m. / Saturdays & Sundays, 12:30 p.m. - 7:30 p.m.
Find out more at nextstagecu.org.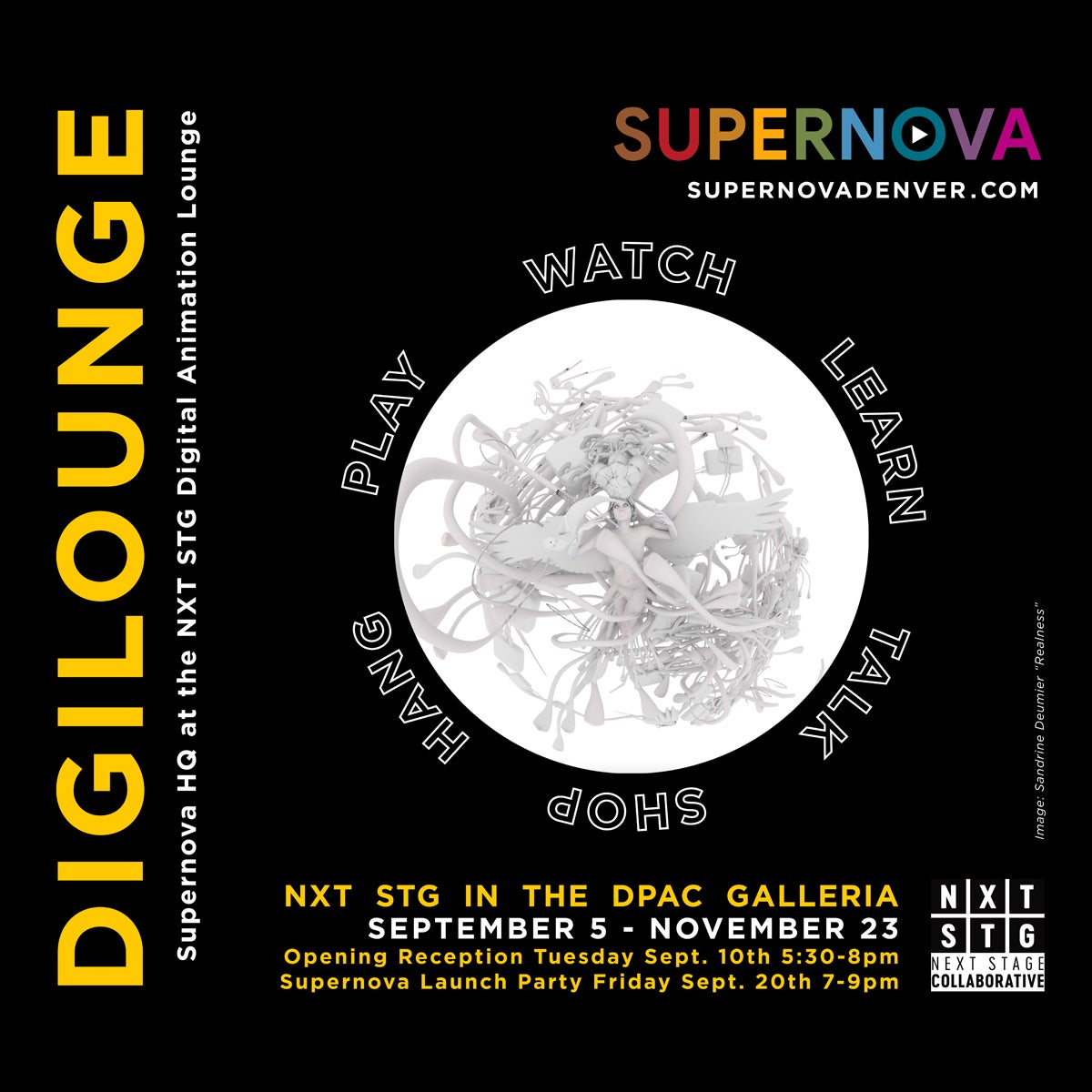 Current Show 9/10 - 11/23
Supernova DigiLounge at Next Stage Gallery is an opportunity to immerse yourself in digital motion-art and learn about one of the most exciting and growing fields in visual art today. The DigiLounge is part of the annual Supernova Digital Animation Festival hosted on a network of outdoor LED screens throughout the Denver Theatre District.
DigiLounge transforms Next Stage Gallery into a multi-faceted opportunity for patrons to watch, learn, talk, shop, hang and play. Special features include a new VR experience by French artist Sandrine Deumier, special animation compilations by Justin Lincoln, Jeron Braxton, Tizzy Canucci and much more.
An opening reception for the DigiLounge will take place in advance of the festival on Tuesday, September 10th from 5:30-8pm, featuring full wall projection of program previews, super-swag giveaways and a deep dive into digital culture. The DigiLounge will also serve as the location for Supernova's annual Launch Party on Friday, September 20th from 7-9pm, with many guest artists in town joining a growing network of regional artists that are participants in this year's programming.